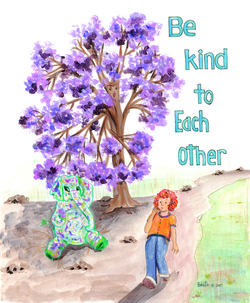 I am told there are 6 core values the schools are teaching and I am also told that
Bunky Books teach all of them. They are: Trust Worthiness, Respect, Responsibility, Fairness, Caring and Citizenship. These Bunky Books also address friendship, self love and respect and the value of all of life including nature.

Most of the popular kids books come from Disney and the stories that have been told time and time again. It is important to keep up with today's busy world and what our children have to deal with today. These are important books and should be on everyone's shelves. They are uplifting with their stories, images, colors and guidance quotes.