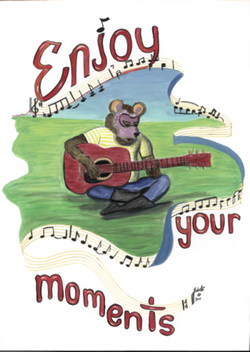 Raising kids, working, finding time for other relationships and then finding time to nourish ourselves is a life time job. Every day I squeeze as much into the day as I can so that I can feel that I actually accomplished something. I'm lucky my kids are grown but I remember when I worked full time as a single mother and I know I didn't nurture my kids the way I would have liked. My kids are wonderful people and I am grateful but I know there are many parents who feel overwhelmed with so much responsibility 24/7.
I wrote my books because I wanted to give the kids and their parents a break and bring them into another world of positive images and thoughts. I also wanted to teach some of what I have learned in my long life about healing, flower essences, meditation, music and all the things in life I find wonderful.
You can see most of the images from all 3 Bunky Books on my other website @
bobetteart.com
. Please let me know your favorites....and tell your friends.